Baseball player works for sports on and off diamond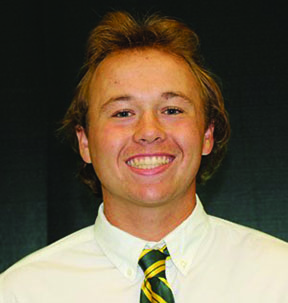 Some students have a passion for a sport and decide to just play until the wheels fall off and they hang up their jersey. But not John Micheal Etheridge. Etheridge is a Kentucky State University sophomore baseball player who decided to take his passion way beyond the field. He currently serves on the Nattional Student Athlete Advisory Committee and is loving it.
Etheridge is from Douglasville, Georgia, which is in the Atlanta metro area. Growing up, he had a passion for both baseball and basketball. For as long as he can remember, he was always curious about what goes on behind the scenes when it comes to sports. So when he got to college and found out there was a way to not only be on the field but be a part of the important conversations behind the scenes, he was all for it.
His family was always very supportive of decisions he made when it came to what he considered his passion. They let him know that going after what he wanted was key, but they warned him not to spread himself too thin. 
"There were long nights and driving me to practices; I couldn't have done it without them," he said.
When Etheridge got to college and expressed his interest in the legislative process of the sport, his family was encouraging. 
Going into his first meeting in Indianapolis, Etheridge said he was a little in over his head with nerves. But after being given a bit of a rundown of how things would be, he was at ease. 
"Nothing compared to actually being there," he said.
When he arrived, everyone involved was very welcoming and accommodating. After watching everyone work, they showed him the ropes, then they allowed him to show his leadership skills and do work of his own.
When he began working with the National SAAC, he was beyond delighted and ready to put in the real work that the position required. He realized early that mental health would part of his duty, so he's currently working on a mental health subcommittee. 
"That is something that has always really stood out to me is the mental health of college athletes and high school athletes. A lot of times its just go, go, go, sports first," he said. "But kids get caught up and never remember to check on themselves." 
Being there for his fellow athletes, regardless of whether they play the same sport as he does, is very important for him. Developing a community where all student athletes can lean on each other one and off of the field is always at the forefront of his mind. Spending time bonding over the issues that all student athlete share can lead to them being more than just teammates.
Etheridge also spoke about his recruitment process with Kentucky State. He said the process was painless. Being brought into a good program and actually enjoying his time spent with the team was at the top of his list. Head baseball coach Robert Henry took Etheridge through the process and was able to honestly paint a picture of what it would be like as he spends his time with this conference.  
Etheridge has made his mark on Kentucky State University. Earning 4.0's and being one of 12 students named to SIAC All-Academic Team was only the start. He hopes to continue to make a difference and play his part on developing an image for not only the university but the conference as a whole. He shoots for the image to fluid and full of positivity.  
"I hope to do what I can not only for campus but for the campuses in our conference. I want to do what I can do to push K State forward and just do what I can for the school," he said.