Annual Founders' Day Convocation salutes 133 years of KSU
Singer Day has audience on its feet in praise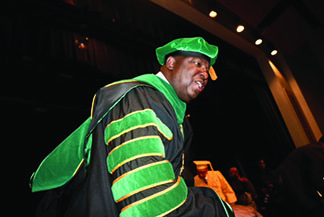 Soprano Calesta Day had the Founders' Day audience on its feet, hands raised in joy and praise as she sang the gospel standard "Safety" at the annual event in Bradford Hall.
Students, staff and alumni alike gathered Oct. 11 to celebrate the 1886 founding of the university and, of course, homecoming. This year the university celebrated the "golden class" of 1969, recognizing the group of alumni at the beginning of the convocation.
Just like at every convocation, the concert choir and chamber singers had everyone in amazement with their vocal display and song arrangements.
After all the musical arrangements from the choir and Day, KSU President M. Christopher Brown II gave the presidential allocution. He said the school is only getting better day by day. He mentioned how the school was working hard to renovate and reopen Hunter and Atwood halls, the plans for building a new clock tower on campus and how the university was able to successfully reopen The Halls.
While talking about the achievements of the school, he was also talking about all the obstacles the school has had to overcome to get to the point where it is now. There was a general sense of empowerment throughout the audience and seemed to be a perfect follow-up to the song from Day.
The guest speaker this year was author and Distinguished Toastmaster Russell L. Duke. Something that he wanted everyone to take away from his address was to wake up and feel confident every day.
Drake introduced an exercise where you take each letter from your first name and associate it with something positive. The goal was to repeat those words to yourself every day.
Things ended as usual with the singing of KSU's alma mater, but this time it was conducted by former choir director and Kentucky State legend, Carl H. Smith.