The 23-million dollar ticking time bomb: How did Kentucky State end up here?
FRANKFORT Ky.-I transferred to Kentucky State University as a sophomore in the spring of 2020. During my time here at the university, I've had the opportunity to meet some amazing people and be a part of experiences that could not be matched anywhere else. I preface this by saying that from May of 2020 to now, there has been nothing but controversy, lies, and disorganization associated with KSU in local and national press. Most of this bad press centered around money (well lack thereof to be exact). As of Feb. 8, when I write this, the school is in debt and needs $23 million to stay afloat. How did we get to this point though?
A lot of the debt that has accrued can be attested to recently ousted president Christopher M Brown II. In the last two years of his presidency, Brown II spent more than $73,000 on a university-issued credit card. Much of this spending can be attributed to flights and hotels among other purchases that were not fiscally responsible. His practices in generating revenue were questionable at best and the Board of Regents backed his every move (I'll touch on them later). This spending is just by one man alone on his own personal excursions.
To be clear, the former president is not alone, this is a ring of collusion that has allowed the university to drastically lose the support of the  public on a local and national level. The actions of the Board of Regents seems to point to them being complicit and raises the question of collusion with former President Brow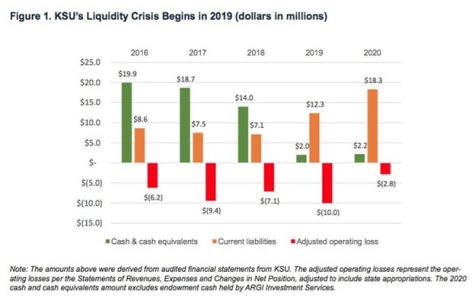 n. The Board of Regents is responsible to approve budgets layered out for each fiscal year. The board knowingly approved budgets that did not represent the situations at hand. I understand not meeting expected projections in a budget to a point, but it is unacceptable for professional financial advisors to allow the university to operate with increasing financial liabilities each year starting in 2018.
The most important thing to understand is that the Board of Regents allowed the school to overspend consistently. As previously stated, there is no excuse to consistently miss the mark and allow the institution to spend money at an alarming rate, and not expect those bills to add up. What did KSU expect to happen when the bills kept piling up? Did they think said collectors would just forgive and forget?
Or did the previous president and board expect the situation to somehow go away on its own? I don't have the answers, but the Board of Regents (who has been very quiet recently), should have answers. The decisions made by our highest officials at Kentucky State University may have put the education of many students at risk. House Bill 250 is being introduced as the saving grace for Kentucky State University. This bill has not been universally accepted by the state legislature due to concerns of financial ineptitude over the past decade. KSU's Green and Gold day at the capitol will be taking place Feb. 9, 2022. Will this be the first step in bailing out Kentucky State and securing their future?