KSU's riverboat used for education, research and history tours
Erion Smith, Thorobred News
FRANKFORT, Ky. – Unknown to many students, Kentucky State University has its very own river cruise.
Owned by the school and funded through the U.S. Department of Agriculture, the Kentucky River Thorobred Cruise offers a 90-minute-long ride down the Kentucky River through Frankfort.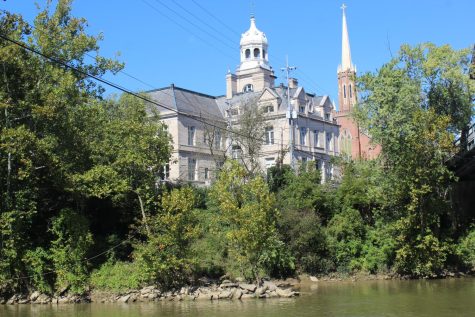 The Thorobred was already in use before public touring as a floating laboratory and classroom for Kentucky State University students, local and regional school students and even to the public. The content and history taught aboard the cruise is divided into school programs and public programs.
"The public program was designed with more natural and cultural history content taken from [books including]Thomas D. Clark's 'The Kentucky,' William E. Ellis's 'The Kentucky River,' Leland R. Johnson and Charles E Parrish's 'Kentucky River Development: The Commonwealth's Waterway,' the Kentucky River Authority's Kentucky River Navigation Charts, local news articles, personal experience and information from the Frankfort City Museum and Kentucky History Museum," said cruise captain Ed Wilcox, watershed research and extension associate at KSU.
The cruise is offered from May-October or June-October, depending on weather and river conditions.
To schedule a ride, check the Thorobred's Facebook page @kysuriverthorobred or email [email protected] or [email protected].